elōs® Plus FotoFacial Skin Rejuvenation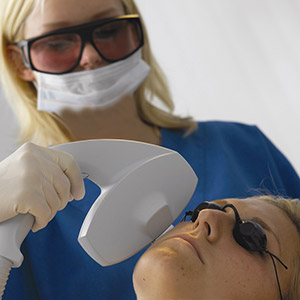 elōs® skin rejuvenation works by combining bi-polar radio frequency and light energies precisely and saftly target pigmented lesions such as freckles, sun spots and age spots. These gentle, no-downtime treatments are used to improve the cosmetic appearance of the face and neck. The elos treatment can be used to treat rosacea, sun spots, age spots, hyperpigmentation, melasma, chronic sun damage, photoaging wrinkles and skin laxity. Each treatment takes about 45 minutes and involves pulses of bright visible light and radio frequency energy that are passed into the skin. Because each elos treatment is gentle, most patients require 5 or 6 elos treatments to see the desired results and they are performed every 3-4 weeks.
What results might I expect from the elōs® treatments?
All patients notice a consistent improvement in the appearance of their skin. The degree of improvement is gradual and persistent over the 15-18 week program and 5-6 elos treatments. The noticeable and significant changes that have been reported include: improvement brown discoloration, pink and brown blemishes, sun damage, age spots, pore size, acne scarring and wrinkles. The degree of improvement can vary but averages 50-75% improvement in anything that is pink and vascular or brown and melanin in nature. The improvement in fine to moderate wrinkles, acne scarring, skin texture irregularities, laxity and smoothness is 50-75%.
Will the elōs® treatment hurt and will I have to miss work?
The elos treatments have a tolerable level of discomfort. The discomfort can be greatly reduced, or even eliminated with use of a forced air, skin cooling systems. After each treatment, patients can apply makeup and return to normal activities, patients rarely have downtime or have to miss work or regular activities.
How long will the Skin enhancement effects of the elōs® last?
At the completion of the elos program the skin will have achieved a noticeable and consistent degree of improvement that over 90% of patients are very happy with. Occasionally, some patients desire an even greater degree of improvement and these patients will sign up for additional procedures. Most elos patients will just desire to maintain the nice skin enhancements they achieved from the program and, for these satisfied patients, a single maintenance elos treatment is recommended every 4 months to keep the skin looking vital, even, smooth and youthful.