Smooth skin and facial fullness are at the pinnacle of looking refreshed and youthful. Unfortunately, as we age, we lose natural volume in our faces, causing wrinkles and fine lines to form around our lips, eyes, and cheeks. Restylane® is an injectable filler that instantly smooths and reduces moderate to severe facial wrinkles and restores youthful contours. Experience total facial rejuvenation and increased confidence with natural-looking results.
Achieved With Restylane®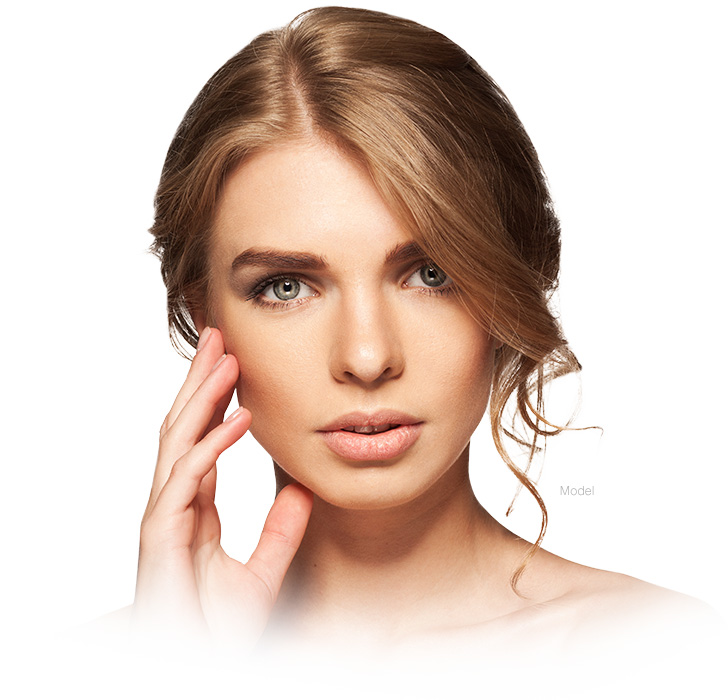 Youthful Contours
Restylane® adds subtle volume to correct wrinkles and folds in the facial area. These injections can be used to treat "laugh lines," "marionette lines," the space between the nose and upper lip, the area around the mouth, and the tear troughs between the cheek and eyelid, giving you more youthful-looking skin and natural fullness.
Increased Confidence
Wrinkles, fine lines, and sunken features can negatively affect your self-image and self-esteem. Let Restylane® help rid you of those insecurities and encourage you to show off your smooth, natural results. Everyone will envy your enhanced confidence and younger-looking skin, but no one will know how you achieved it!
Fuller Lips
Full and luscious lips are a desire of many women. When injected into the lips, Restylane® can plump naturally thin lips or augment the shape of your lips to give you the pout you've always desired. Restylane® treatments are tailored so that you achieve the desired amount of enhancement, whether it be subtle or dramatic.
Addressing Your Concerns
Recovery

Restylane® injections are entirely noninvasive and require no downtime. You can expect to experience swelling, redness, bruising, and tenderness in the treatment area, which can last up to seven days. With Restylane® treatments, there are no limitations, and you can resume your daily activities shortly following your procedure.

Scars

Restylane® is a nonsurgical option to correct the visible signs of aging. Therefore, no incisions will be made, and there will be no possibility for future scarring.

Cost

The cost of your Restylane® injections will be dependent on several factors, including geographical region and the number of desired treatment areas as well as the amount of Restylane® administered. Dr. Chin and his staff at Aspire Medispa will provide you with an accurate cost estimate during your initial consultation.

Pain

During the procedure, Dr. Chin and his staff may use an anesthetic ointment to numb the skin and minimize discomfort. Any pain or discomfort will be minimal and can be remedied with over-the-counter pain medication.
Frequently Asked Questions
What is Restylane®?

Restylane® is made up of a clear formulation of hyaluronic acid. This substance mimics the hyaluronic acid found naturally in your body, and it adds fullness and volume to the skin, thus minimizing moderate to severe wrinkles and leaving you looking and feeling more rested and rejuvenated.

---

How long will this procedure take?

Most treatments take less than one hour of your time; however, this will be entirely dependent on the individual and the number of desired treatment areas.

---

Is this treatment safe?

Yes, Restylane® has been proven to safely and effectively treat moderate to severe signs of aging on the face. That said, your treatment should be administered by a trained professional, such as the staff at Aspire Medispa.

---

How long will my results last?

Any dermal fillers, including Restylane®, are temporary solutions. Your body naturally absorbs the material of the fillers over the course of a few months. Follow-up treatments are suggested every four to nine months and even up to one year (depending on the treatment areas) to maintain your results.

---

Am I a candidate for Restylane®?

Candidates for Restylane® injections are over the age of 21 and have no history of allergies to any of the ingredients found in Restylane® or allergies to gram-positive bacteria. Candidates should be in good general health and have realistic expectations about their results.

---