Laser Skin Treatments in Fresno, CA
Your complexion can be affected by a variety of factors, including acne, lifestyle habits, genetics, and age.
Several treatments have been developed over the years to help reduce any adverse effects, and fractional laser treatments offer advanced skin resurfacing technology for excellent results.
ACTIVEFX™ / DEEPFX™ Fractional Laser Treatments
Aspire Medispa offers ACTIVEFX™ / DEEPFX™ fractional laser treatments in Fresno, California. Our DeepFX™ micro scanner can thoroughly evaluate your needs to treat set-in wrinkles, acne scars, and other deep lesions, along with more superficial concerns.
ULTRApulse® Alpha Laser
We have recently added the ULTRApulse® Alpha laser technology to our range of advanced skin rejuvenation treatments to address even more common signs of aging and troublesome skin conditions.
To learn more about ACTIVEFX™, DEEPFX™, or ULTRApulse® Alpha laser treatments, call our Fresno Medispa at (559) 435-8477.
Schedule Your Consultation
About ACTIVEFX™, DEEPFX™, and ULTRApulse® Alpha Lasers
These laser treatments remove the old and damaged skin cells for softer, clearer, more beautiful skin and promote collagen growth for long-lasting results.
ACTIVEFX™ is best for milder skin issues by treating the upper outer layer of the skin. The laser is applied in a grid-like pattern across the skin, targeting a predetermined fraction of the surface area.
DEEPFX™penetrates into the deeper layers of the skin, making it effective for more severe wrinkles and texture issues.
ULTRApulse® Alpha combines technological advancements with a user-friendly handpiece to help you achieve stunning results in just one session. This laser treatment is entirely customizable with condition-based presets.
What Can Be Achieved With Laser Skin Treatments?
ACTIVEFX™, DEEPFX™, and ULTRApulse® Alpha lasers are designed to dramatically improve the appearance of facial skin by improving its strength and elasticity by addressing the following concerns: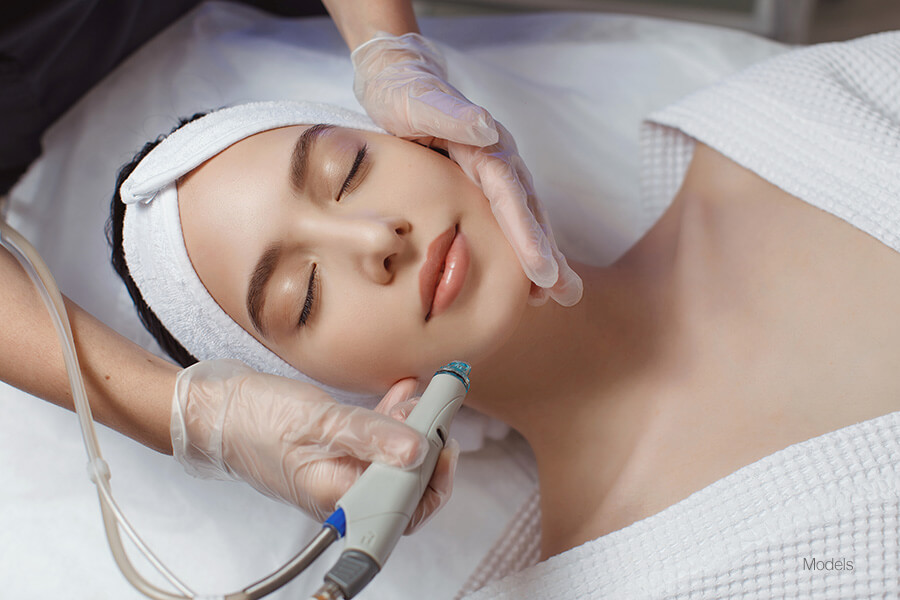 Collagen Loss
Collagen is responsible for the health and strength of our skin. However, as we age, our skin slows down its production of collagen. The fractional ACTIVEFX™ / DEEPFX™ laser heats the skin to promote new collagen growth, which causes fresh, healthy skin to grow.
Wrinkles and Fine Lines
Because wrinkles and fine lines appear on our skin due to a loss of elasticity, the new collagen produced from the fractional laser allows more skin cells to bond, resulting in stronger, smoother skin. These fractional lasers target fine lines and wrinkles, providing a smoother, more youthful complexion.
Poor Skin Tone and Texture
Along with ridding your skin of unsightly wrinkles, our laser treatments can improve skin blemishes, pigmentation issues, and sunspots.
Scarring
This technology can effectively reduce the appearance of acne scars and other facial scars.
The process begins with an in-depth consultation, during which our practitioner will assess your skin, discuss your concerns, and determine whether ACTIVEFX™ or DEEPFX™ is best suited to meet your needs.
The skincare professionals at Aspire Medispa are trained and experienced to provide meticulous treatment for our clients and can recommend the appropriate treatment for your skin concerns.
Addressing Your Concerns
At Aspire Medispa, we know you have concerns about how treatments can affect your skin. The following information can ease your mind and let you know what to expect before, during, and after your laser treatment.
Before Treatment

Your skin will be thoroughly cleansed, and a numbing cream or local anesthesia may be applied to minimize discomfort during the treatment.

During Treatment

You can expect little to no discomfort during treatment as these lasers include cooling and protective agents to soothe the treated area and reduce the risk of complications.

After Treatment

Expect redness and some swelling after the procedure. These side effects typically subside within a few days to a week. The treated skin may peel or flake as it heals, revealing newer, smoother skin underneath.

For best results, it is essential to protect the treated skin from sun exposure, as it will be more sensitive to UV rays during the healing process.
Your Laser Skin Treatment Consultation
Because some variations exist among our laser treatment options, we recommend that you schedule a consultation to find out which procedure is proper for you, depending on your unique skin concerns.
Your Fresno Laser Skin Treatment Experts
Aspire Medispa offers a full range of non-surgical cosmetic treatments in Fresno, including laser skin resurfacing and other procedures, such as:
Call Aspire Medispa in Fresno, California, to learn more about fractional laser treatments by calling (559) 435-8477 today!
ACTIVEFX™ / DEEPFX™ FAQs
How much do ACTIVEFX™ / DEEPFX™ treatments cost?

Your ACTIVEFX™ / DEEPFX™ treatment cost will vary depending on the extent of your treatment and whether you are combining a treatment with any others. Please call Aspire Medispa to schedule a consultation.

You will be given your ACTIVEFX™ / DEEPFX™ price quote based on the condition of your skin and the desired outcome.

---

How many treatments will I need?

One of the best parts about ACTIVEFX™ / DEEPFX™ fractional laser treatments is that most patients require only one treatment session to give them the results they are looking for; however, patients with extensive skin issues may require or desire more than one session.

---

Does an ACTIVEFX™ / DEEPFX™ treatment hurt?

While it will not be painful, many patients have reported feeling some soreness during their fractional laser treatment. A numbing ointment can be applied before the treatment begins to lessen any discomfort, and medication can be taken to alleviate any pain you may feel after the treatment is complete.

---

How long does it take to heal from ACTIVEFX™ / DEEPFX™ treatments?

There is no downtime associated with this treatment aside from some temporary soreness and redness. Any discomfort can be alleviated with over-the-counter medications.

---

When will I see my fractional laser treatment results?

You should see noticeable improvements in skin texture and tone within a few weeks. Results continue to improve over the following weeks as collagen production is stimulated. Deeper wrinkles and scars may require more time to show significant improvement, with results becoming apparent over several months.

---

How long will my results last?

ACTIVEFX™ / DEEPFX™ both offer long-lasting results, up to several years, especially when combined with a healthy lifestyle, including a healthy diet and proper skincare routine.

---

Will ACTIVEFX™ / DEEPFX™ treatments leave scars?

These treatments do not leave scars or other signs of the treatment. Any redness that develops after the treatment should be temporary.

---