Smooth skin and a toned physique are commonly sought by those who associate these features with youthfulness and physical beauty. However, for many women, the appearance of cellulite hinders those aesthetic goals. Cellulite is a condition that affects more than 80 percent of women. This dimpling forms when fat pockets that resist diet and exercise push through the connective tissue and get locked in between the tissue and your skin. While cellulite is physically harmless, it can be bothersome and damage one's self-esteem. Treatment with FDA-approved VelaShape® III can minimize the appearance of cellulite and give you the smoother, firmer skin you desire.
Achieved With VelaShape® III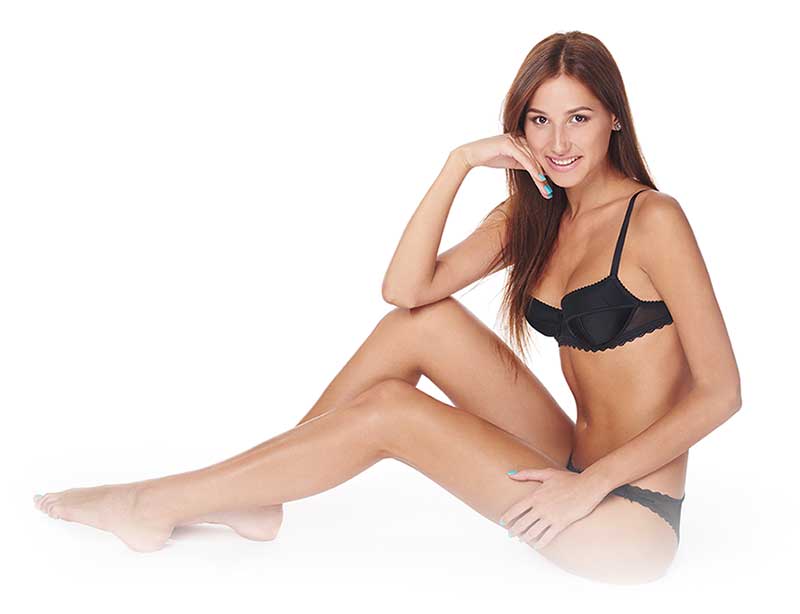 Cellulite Removal
VelaShape® III uses a combination of infrared and radiofrequency energies (known as elōs™ technology) to heat the underlying fat cells and their surrounding tissues. This process improves skin texture by reducing the appearance and formation of cellulite.
Smoother Skin
VelaShape® III has two applicators designed to smooth, firm, and tighten skin on large and small areas of the body. This non-invasive treatment safely and comfortably targets cellulite on the abdomen, thighs, and buttocks, leaving you with a sexier, more defined physique.
Increased Confidence
Although cellulite is experienced by many individuals, its presence can still cause embarrassment and dissatisfaction. Treatment with VelaShape® III can slim and contour your body as well as increase your confidence while wearing shorts and bathing suits.
Addressing Your Concerns
Recovery

VelaShape® III treatment requires no recovery and no downtime. Patients can resume work and their normal activities immediately after the procedure.

Scars

Since VelaShape® III is a nonsurgical procedure, there is no visible scarring after treatment.

Cost

The cost of VelaShape® III depends on the number of areas being treated as well as the number of sessions required to achieve the desired result. Dr. Chin and his staff will provide you with an accurate cost estimate during your consultation.

Pain

Treatments for VelaShape® III are noninvasive and comfortable. Most patients liken the feeling of the procedure to that of a deep tissue massage. In the hours following a VelaShape® III session, you may experience a warming sensation or slightly reddened skin. These side effects are both normal and temporary.
Frequently Asked Questions
What causes cellulite?

Cellulite is caused by several factors including genetics, pregnancy, weight gain, diet, and hormonal changes. While cellulite can be present in men, it is most often seen in women due to the formation of the fat cells and connective tissue specific to females.

---

Am I a good candidate for VelaShape® III?

Candidates for this procedure should be in generally good health and have realistic expectations of their treatment. Non-smoking patients who are near their goal weight may experience more dramatic results.

---

How many treatments will I need?

VelaShape® III can noticeably slim your body and reduce the appearance of cellulite in as little as four treatment sessions. Patients often follow up with maintenance treatment a few times a year.

---

When will I see results?

Improvement will be noticeable immediately after the procedure; however, your VelaShape® III results will improve with time and repeat treatment. Your final results should be visible within six to eight weeks following your last session. Traditionally, patients notice an average of one inch of circumferential reduction after VelaShape® III treatment.

---

Will my results be permanent?

While this procedure does not provide permanent results, maintaining a healthy diet and consistent exercise regime can help to prolong your VelaShape® III results.

---