Lutronic® Infini™ and LaseMD™ Laser Treatments in Fresno
With the progression of age comes wrinkles, fine lines, pigment changes, and acne scars. You can rejuvenate your skin with the Infini™ and LaseMD™ laser systems.
Aspire MediSpa offers the Infini™ and LaseMD™ laser treatments from Lutronic® to safely and efficiently address visible signs of aging. These procedures can rejuvenate the skin on your face, neck, jowls, and décolleté.
Why Choose Lutronic® Skin Rejuvenation?
Lutronic® skin rejuvenation options are ideal for patients looking to improve the appearance of their skin without undergoing more invasive plastic surgery procedures.
The Infini™ micro-needling and radio frequency system is safe for all skin types. It is FDA approved for the treatment of facial wrinkles.
The LaseMD™ skin laser provides skin resurfacing and stimulates deeper collagen growth.
Both Lutronic® devices provide long-term benefits over the course of several noninvasive treatments.
What Are My Skin Rejuvenation Options?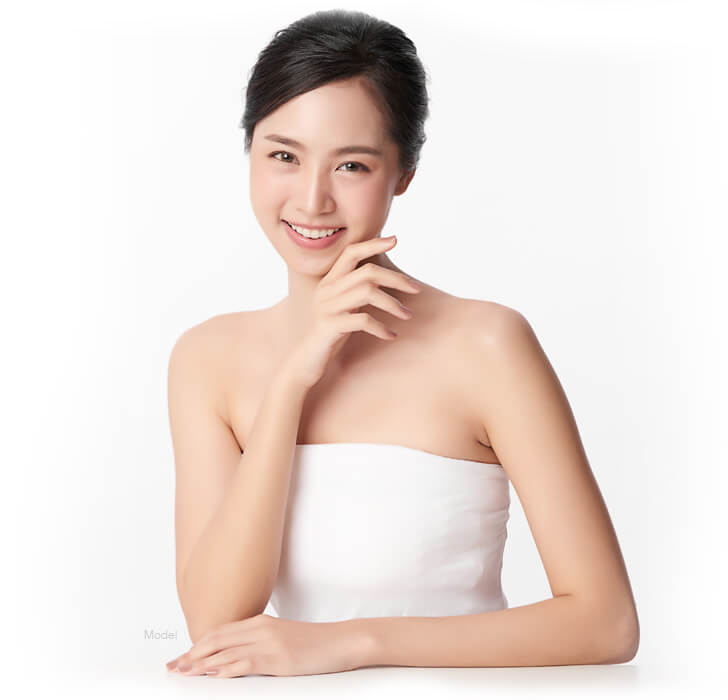 Radio Frequency Micro-needling (Infini™)
Infini™ is a revolutionary fractional micro-needling and RF system. It delivers high-intensity focused radio frequency energy through insulated micro-needles for consistent results.
Infini™ treatment can address:
Facial wrinkles
Skin texture irregularities
Skin laxity
Acne scars
Visible aging on the neck
Jowls
Laser Resurfacing (LaseMD™)
LaseMD™ offers customizable non-ablative skin resurfacing for all skin types. Treatment areas include the face, neck, and décolleté.
LaseMD™ treatment can:
Rebuild healthy skin
Even out skin tone
Smooth fine lines and wrinkles
Address pigmented skin
Reduce the appearance of acne scars
How Do Lutronic® Skin Rejuvenation Treatments Work?
Infini™ by Lutronic®

The Infini™ device combines physical micro-needling and radio frequency to visibly tighten the skin on your face, neck, and jowls.

Before the procedure, a topical anesthetic will be applied to prevent patient discomfort. During the Infini™ treatment, thousands of microscopic punctures are created in your skin with the micro-needles. RF energy is deployed through these micro-needles to stimulate new elastin and collagen production.

As the punctures heal, they will trigger cell growth that further enhances your skin's health, flexibility, and toughness. Combined, these two types of skin tightening provide excellent results.

The Infini™ system can be customized to each treatment area as well as your preferred skin depth. This gives your technician the ability to treat your skin concerns with extreme precision.

LaseMD™ by Lutronic®

The LaseMD™ is a fractional non-ablative laser system that stimulates collagen and elastin growth in the deeper layers of your skin. Like other non-ablative skin laser treatments, it does not damage your skin's upper layers. This allows the LaseMD™ to enhance your skin over time and produce long-lasting results.

During the LaseMD™ treatment, you may feel heat from the laser head. This is normal. If you begin to feel pain or itching during treatment, inform your technician.

This procedure is comfortable and fast, and it requires no downtime or anesthesia. The LaseMD™ device can treat even the most difficult-to-reach areas.
What to Expect After Infini™ and LaseMD™ Laser Procedures
Infini™ Recovery
Infini™ treatment requires minimal downtime, and most patients can return to work within one or two days. Makeup can be worn after 24 hours.
You should expect minor redness and swelling in the treated area for one or two days after the procedure. Avoid direct sunlight to the extent possible for two to three days after treatment.
Infini™ Results
The results after Infini™ radio frequency micro-needling appear in as little as one week after one treatment.
Your skin will continue to improve over the next six months as collagen growth occurs.
LaseMD™ Recovery
Recovery after LaseMD™ will be faster than with most other laser skin resurfacing options. Most patients can return to work immediately after treatment.
The non-ablative nature of this laser skin treatment means that your skin will not flake off after your procedure.
LaseMD™ Results
You will begin to see results after your first session, and these results will only improve with additional sessions.
Most patients require three or more sessions to achieve optimal results.
Frequently Asked Questions About Lutronic® Skin Rejuvenation
How much do Lutronic® skin rejuvenation treatments cost in Fresno?

The cost of your skin rejuvenation procedure will depend on the specific concerns you want addressed. The price of your customized treatment will also vary depending on the size of the treatment area and which rejuvenation option you select.

Dr. Chin will provide you with a personalized treatment plan and skin rejuvenation cost after your consultation.

---

What is the difference between radio frequency and laser energy?

Radio frequency devices (like Infini™ or Emsculpt Neo®) use radio waves to heat targeted skin layers from the bottom up. This process enhances collagen growth primarily in the lower layers of your skin.

Laser treatments heat the targeted skin layers from the top down. This means that you will see results slightly sooner, as the enhanced skin is higher up. However, more fractional laser treatments may be necessary to address all layers of your skin over time.

---

Am I a good candidate for Infini™ or LaseMD™ treatments?

If you are interested in improving your skin tone or addressing cosmetic concerns on your skin, Lutronic® skin rejuvenation systems may provide the results you seek. Ideal candidates are in good health and willing to undergo several treatments to achieve optimal results.

---

How long will my Lutronic® procedure take?

For most patients, skin restoration treatments can be completed in 30 minutes to an hour. If your target area is particularly large or the area is particularly sensitive or difficult to reach, this may be extended.

Many patients choose to undergo these procedures on their lunch break and return to work shortly afterward.

---

Can I combine Lutronic® treatments with other treatments or products?

LaseMD™ treatments can be augmented with the LaseMD™ Ampoule serums. These concentrated serums can be applied with your skin rejuvenation treatment to boost your results.

These serums include:

Vitamin C—to brighten skin and assist with anti-aging
Vitamin A—to treat wrinkles
Tranexamic Acid—to address redness and the effects of melasma while brightening skin
Resveratrol—to lighten and tone skin

---

What risks are associated with Lutronic® treatments?

As with any cosmetic procedure, there are certain risks associated with skin rejuvenation treatments.

The risks and potential side effects of the Infini™ and LaseMD™ systems may include:

Redness and swelling in the treated area
Skin discoloration
Minor nerve damage
Infection

---