Bright, alert eyes communicate youth, vitality, and attentiveness. But as we age, the eyelid muscle can weaken, and the skin begins to sag, causing acquired blepharoptosis, or low-lying eyelids. This is a very common condition, affecting millions of people over 40.
Upneeq® is a nonsurgical, FDA-approved treatment for acquired blepharoptosis, providing visible lift to low-lying and tired eyelids. These prescription eye drops temporarily improve droopy eyelids with a single daily dose.
If you want brighter, more alert eyes without invasive surgery, Upneeq® may be right for you.
What Can Be Achieved With Upneeq®?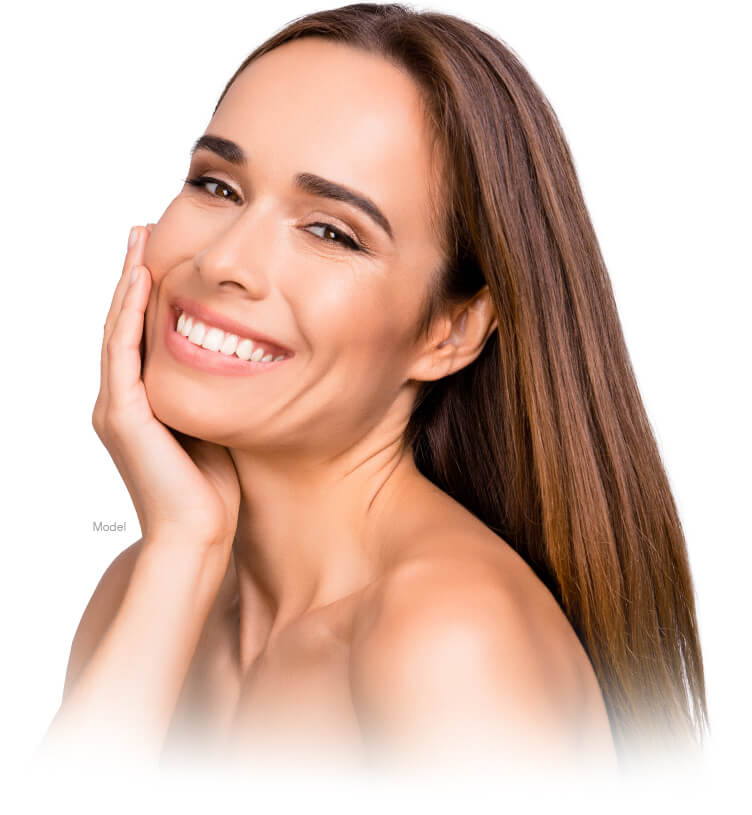 Larger, Brighter Eyes
Upneeq® opens the eyes and creates natural-appearing results. The 0.1% oxymetazoline hydrochloride ophthalmic solution uses an alpha-adrenergic agonist to trigger the levator palpebrae muscle (Muller's muscle), causing it to contract and raise the upper eyelid. This results in lifted, more open eyes.
Enhanced Range of Vision
If you suffer from acquired blepharoptosis, your eyelids droop, closing the distance between your upper and lower eyelids. This can limit your field of vision, affecting your ability to see or causing you to raise your chin to improve your view. Upneeq® widens your view, improving visibility for greater comfort when reading, driving, or using the computer.
More Alert Appearance
Are you tired of looking tired? Drooping eyelids can make you look exhausted, dull, or bleary-eyed, even when well-rested. Upneeq® can give you a more alert appearance by lifting the eyelids and opening the eyes.
Lifted Eyelids
Sagging eyelids can contribute to an angry or sullen appearance and, in some cases, make you look older than you are. Bright, lifted eyes communicate youth and ease, improving your confidence and overall facial aesthetics.
Nonsurgical Solution
Many patients with mild to moderate blepharoptosis are not ready to undergo surgery to address their concerns or only need minor improvement for drooping eyelids. Upneeq® is the only FDA-approved solution that provides natural, noticeable results without surgery.
How Long Does Upneeq® Last?

With one drop per eye daily, each dose of Upneeq® can temporarily improve eyelid drooping for a minimum of six hours.

What Is the Cost of Upneeq®?

A 30-day supply of Upneeq® costs $160, and $240 for a 45-day supply.
Are There Any Side Effects With Upneeq®?
While rare, side effects can include eye irritation and redness, dry eye, blurred vision, headache, and inflammation.
Upneeq® is only available through a prescription, so your medical provider can assess your eligibility based on current medical records.
Is Upneeq® Safe and Effective?
Yes, Upneeq® is the only FDA-approved nonsurgical treatment for blepharoptosis and is safely proven through clinical studies of hundreds of patients.
Additionally, Upneeq® works fast: most patients see some improvement in eyelid drooping within five minutes after application, with full effects visible after two hours.
Frequently Asked Questions About Upneeq®
Who is a good candidate for Upneeq®?

If you have mild, moderate, or severe eyelid ptosis and are not taking any medications that will interfere with Upneeq®, you may be a candidate for eye-lifting treatment. This treatment may affect certain medications such as:

Beta-blockers
Anti-hypertensive medications
Cardiac glycosides
Monoamine oxidase inhibitors

Upneeq® is not designed for patients with congenital blepharoptosis, which must be addressed by a surgical procedure.

---

How often can I use Upneeq®?

Upneeq® should only be used as prescribed by your physician. One dose, once daily. You can discuss your options for use during your consultation and follow your doctor's recommendations.

---

How does Upneeq® compare to eyelid surgery?

Upneeq® is ideal for those with acquired blepharoptosis or those who have developed droopy eyelids over time. It is a perfect treatment for temporary relief from mild to moderate cases, but surgery may be a better option if you have more severe ptosis or your ptosis is from congenital issues.

---

What causes acquired blepharoptosis?

Acquired blepharoptosis can occur for a variety of reasons. Consistent contact lens use, BOTOX® Cosmetic-induced ptosis, and aging all contribute to drooping or sagging eyelids. Many people who are unhappy with the appearance of their upper eyelids notice the changes in structure over time.

---

Can Upneeq® treat BOTOX® Cosmetic-induced ptosis?

Yes. Unfortunately, with an inexperienced injector, BOTOX® Cosmetic around the forehead can travel to your eyelid muscles, causing them to relax and sag. While the effects of BOTOX® Cosmetic are temporary, Upneeq® can stimulate the muscle again until it returns to normal.

---

Can I use Upneeq® with my contacts and other eye drops?

Yes. After applying Upneeq®, wait 15 minutes before inserting your contact lenses or using other eye drops. Be sure to discuss any additional medications or prescription eye care with your doctor before using Upneeq®.

---

Can I combine Upneeq® with other treatments?

Absolutely. Upneeq® is a once-daily, at-home treatment to lift and brighten the eyes for a more rested, rejuvenated appearance. Many patients who seek this treatment also desire to restore other areas of their appearance.

Aspire Medispa offers injectable treatments, laser resurfacing treatments, and microneedling to provide you with a variety of nonsurgical, minimally invasive treatments for all your aesthetic needs.

---