Hyaluronic acid is a complex molecule that naturally exists in living tissue. Over time, the loss of HA in your skin results in facial wrinkles, folds, and hollows.
What Is JUVÉDERM®?
JUVÉDERM® is the most commonly used hyaluronic acid (HA) filler for smoothing facial wrinkles and depressions. When injected into the skin, JUVÉDERM®'s hyaluronic acid formula adds volume and plumps the area by drawing and retaining fluid. JUVÉDERM® restores your skin's volume for a smooth, natural look and feel.
JUVÉDERM® is the first smooth-consistency HA gel filler. It is the only HA facial filler FDA approved to last up to one year with only a single treatment.
What Can JUVÉDERM® Filler Do?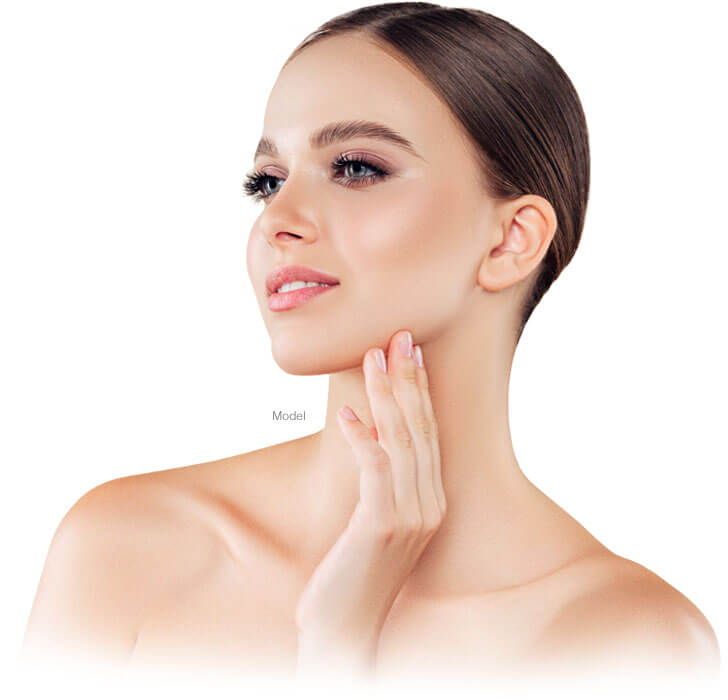 Smooth Facial Wrinkles & Folds
JUVÉDERM® is injected under the skin to correct moderate to severe facial wrinkles and folds.
The main wrinkles treated are nasolabial folds, which run from the bottom of your nose to the corners of your mouth. This injectable filler can also treat other wrinkles around the mouth, chin, and nose.
Plump Lips
Dermal fillers can be injected into the lips to make them more full and pronounced.
This is ideal for younger women seeking to improve their appearance and older women who want to reverse the effects of aging on their lips.
Add Volume to Facial Hollows
Hyaluronic acid fillers like JUVÉDERM® can restore volume loss and a sunken appearance in the cheeks, temples, and other areas of the face.
This face filler can help patients achieve more youthful, defined facial contours.
How Does JUVÉDERM® Treatment Work?
Your JUVÉDERM® Consultation

During your consultation, Dr. Chin will ask you questions to determine your aesthetic goals and ensure they are achievable with JUVÉDERM® treatments. He will then evaluate your face to determine how much filler will be needed to meet your goals.

Once this is established, he will explain the treatment process and answer any questions you may have.

JUVÉDERM® Treatment Process

During your treatment, Dr. Chin will strategically inject JUVÉDERM® gel into the targeted areas of your face. The JUVÉDERM® compound includes a localized pain reliever that reduces pain and swelling around the injection sites. Some swelling is still likely, but patients should experience minimal discomfort during treatment.

Dermal filler treatments require only a brief in-office visit and take an average of 30 minutes to perform.

Will I Need Multiple JUVÉDERM® Treatments?

Some patients achieve their aesthetic goals after a single treatment. However, most patients require three to four sessions spread out over weeks or months to achieve their ideal results.

Patients who choose to undergo periodic touch-up treatments schedule appointments every six to 12 months.
What to Expect After JUVÉDERM® Treatment
How Long Is Recovery After JUVÉDERM® Treatments?
There is no formal recovery period following hyaluronic acid injections. Patients may experience minor pain, bruising, or swelling in the treated areas, but this should not impact daily activities.
Patients should avoid scratching or rubbing the injection sites for a few days to give the filler time to settle into place.
When Will I See My JUVÉDERM® Results?
You will see a visible improvement immediately after treatment. Initial results may take up to three days to become visible as swelling fades and the filler settles. Final results should become visible in one to two weeks.
How Long Does JUVÉDERM® Last?
Patients may see results lasting between six months and a year depending on the amount of filler used. Many patients choose to undergo periodic treatments within that timeframe to maintain their results.
Will JUVÉDERM® Leave Scars?
JUVÉDERM® is performed using thin needles that leave no scarring or skin blemishes behind after treatment.
Frequently Asked Questions
How much does JUVÉDERM® cost?

The cost of JUVÉDERM® treatments will vary depending on the targeted area and the extent of correction required. Injectable fillers are priced by the vial, and some treatments require more vials than others.

Dr. Chin will be able to provide you with a personalized treatment plan and JUVÉDERM® cost after your consultation.

---

Am I a good candidate for JUVÉDERM®?

Ideal candidates for dermal filler treatments are adults who want to address wrinkles or volume loss in their face. Patients should be non-smokers in good health. Patients with a history of allergic reactions to other dermal fillers should not use JUVÉDERM®.

---

How is JUVÉDERM® different from BOTOX® COSMETIC?

BOTOX® Cosmetic is not an HA filler. BOTOX® Cosmetic injections reduce muscle activity to treat moderate to severe lines between the eyebrows (the glabellar area). These dynamic lines and wrinkles are caused by the dominant frown muscles, and BOTOX® Cosmetic inhibits their movement. This allows the vertical lines and wrinkles between the brows to temporarily fade into a smoother appearance.

BOTOX® Cosmetic does not restore lost facial volume or treat wrinkles that are not caused by muscle contractions. JUVÉDERM® can be used in combination with BOTOX® Cosmetic because they work differently and provide complementary effects.

---

Can I combine JUVÉDERM® with other facial treatments?

Yes. JUVÉDERM® works well with other treatments such as BOTOX® Cosmetic for wrinkles in the upper face and KYBELLA® for fat beneath the chin.

Other procedures that can work well with dermal fillers include:

---

What risks are associated with JUVÉDERM® treatments?

Most JUVÉDERM® side effects are mild or moderate, and their duration is short (seven days or less).

While rare, the most common potential side effects include:

Redness
Pain or tenderness around the injection site
Firmness
Swelling
Lumps or bumps under the skin
Bruising
Itching
Discoloration around the injection site
Infection

---