JUVÉDERM VOLUMA® XC in Fresno, CA
Over time, your skin begins to thin, and the youthful volume of your face diminishes. This volume loss is most often noticeable on the mid face. Your cheeks lose fullness, and the skin may sag.
JUVÉDERM VOLUMA® XC is an injectable dermal filler that instantly adds volume to your cheek area to restore age-related volume loss. Injections are performed in the office in a matter of minutes.
What Are the Benefits of JUVÉDERM VOLUMA® XC?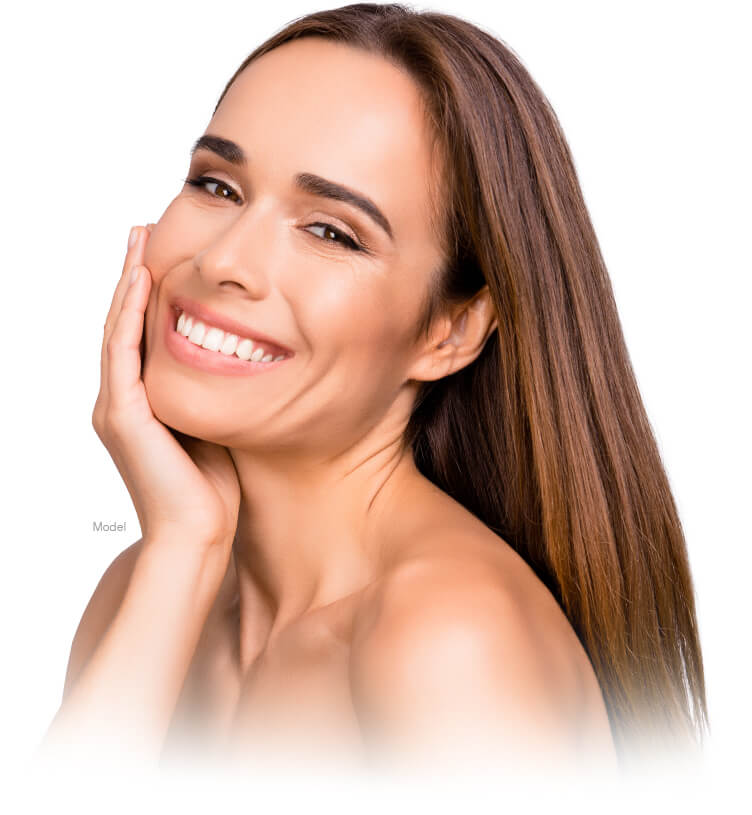 Lifted, Fuller Cheeks
Your cheeks begin to flatten and sag with age. Since the facial fat in your mid face is responsible for maintaining a youthful contour, the loss of volume can contribute to a gaunt and hollow look. JUVÉDERM VOLUMA® XC is an injectable treatment that adds volume beneath the skin's surface. This gel substance is designed for deep injection in the cheek area and corrects age-related volume loss.
Tighter Skin
As we age and our skin begins to thin, lines and creases form between the mouth and nose. These are known as nasolabial lines, and they deepen as the additional volume is lost. JUVÉDERM VOLUMA® XC restores a youthful complexion by restoring volume and correcting moderate to severe facial wrinkles and folds. This injectable restores a softer contour by providing a subtle lifting effect.
Immediate Results
JUVÉDERM VOLUMA® XC consists of hyaluronic acid—a moisturizing substance that attracts and maintains hydration. This substance is naturally found in abundance during your youth but lessens as you age. Injectable treatments like JUVÉDERM VOLUMA® XC restore some of this hyaluronic acid, which provides immediate results. Patients will see added fullness in their cheeks or nasolabial folds that will continue to improve over the following days.
Do You Have Any Concerns About JUVÉDERM VOLUMA® XC?
Cost

Injectable fillers are priced per unit. Therefore, your final JUVÉDERM VOLUMA® XC cost will depend on the amount of filler needed to enhance your facial contour. The amount of filler will be determined during your consultation with Aspire MediSpa.

The cost of dermal fillers usually ranges between $600 and $1000 per syringe.

Scars

JUVÉDERM VOLUMA® XC injections are nonsurgical and will not result in any post-treatment scarring.

Pain

JUVÉDERM VOLUMA® XC contains lidocaine in the gel substance that reduces discomfort and improves comfort during the injection. Some commonly reported side effects include redness, swelling, tenderness, firmness, bruising, discoloration, and itching at the injection site. This discomfort can be lessened with cold compresses and over-the-counter pain medication, like TYLENOL®. Side effects are usually moderate and disappear within two to four weeks.

Recovery

JUVÉDERM VOLUMA® XC is a nonsurgical injectable treatment that does not require any recovery or downtime. Patients should minimize strenuous exercise, avoid alcoholic beverages, and reduce exposure to the sun within the first 24 hours after the treatment.
What Are Some Frequently Asked Questions About JUVÉDERM VOLUMA® XC?
Am I a candidate for JUVÉDERM VOLUMA® XC?

JUVÉDERM VOLUMA® XC is FDA approved for use in adults over the age of 21. Candidates for this treatment are in good health without a history of severe allergic reactions or allergies to lidocaine or any of the ingredients in JUVÉDERm VOLUMA® XC.

Individuals who use medications like aspirin, ibuprofen, or other blood thinners may be asked to stop the use of these temporarily as they may increase bruising or bleeding at the injection sites.

---

Do I need a consultation for an injectable treatment?

A consultation is necessary to determine whether or not you are a candidate for JUVÉDERM VOLUMA® XC. During this consultation, your injectable provider will examine your skin quality and the extent of mid face volume loss. They will also provide recommendations for other nonsurgical treatments that might enhance the quality of your results.

BOTOX® Cosmetic

,

Restylane®

,

BELOTERO BALANCE®

, or other

JUVÉDERM®

products may be suggested to maintain facial balance and youthful features.

---

How long will my JUVÉDERM VOLUMA® XC results last?

JUVÉDERM VOLUMA® XC is the longest-lasting JUVÉDERM® product. JUVÉDERM VOLUMA® provides you with an enhanced contour and a subtle lift for up to two years. Repeated injections can be performed at that time to maintain results.

---