The incredible versatility of modern technology now allows medical practitioners to direct ultrasonic energy toward anti-aging treatments for the skin. Known as Ultherapy®, this treatment gently tightens and lifts the skin and underlying tissues while improving wrinkles and fine lines. Ultherapy® is a nonsurgical procedure offered at Dr. Mark Chin's medispa that can rejuvenate your skin and appearance without any surgical incisions.
Achieved With Ultherapy®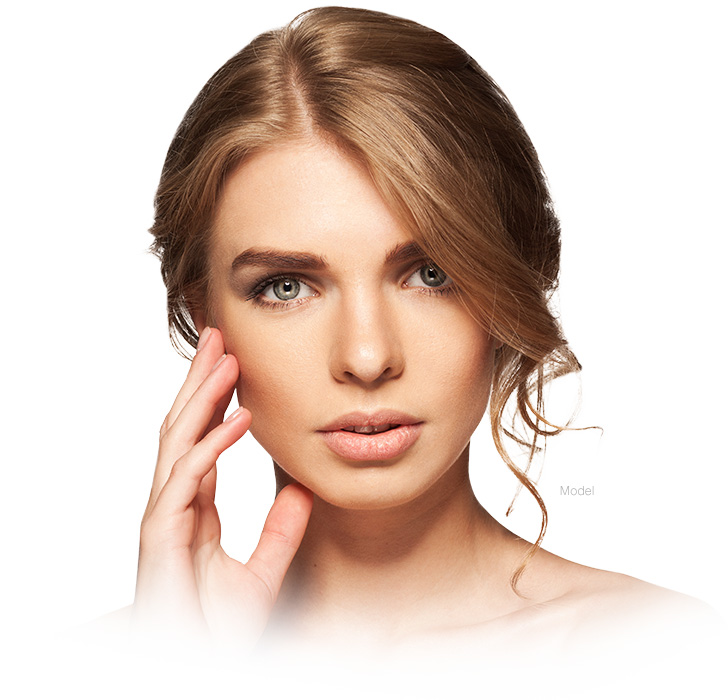 Lifted, Toned Skin
Ultherapy® uses ultrasonic waves to gently heat the tissues of the skin. This process visibly lifts and tightens the skin so that it is more lifted and toned. Treatment with Ultherapy® counteracts the effects of gravity and time by lifting the brows and other areas of the face and neck to improve the contour of the neck, jowls, and under-chin area.
Reduction in Wrinkles and Fine Lines
By tightening and lifting the skin, Ultherapy® helps reduce the presence of fine lines and wrinkles in the face, neck, and chest. Facial rejuvenation with Ultherapy® produces smoother skin with a more even texture and tone that is youthful and refreshed.
A More Youthful Appearance
In addition to tightening the skin, Ultherapy® also causes the tissues to create new collagen. This structural protein is essential for skin vitality and helps the skin maintain a youthful quality. By triggering the formation of new collagen in the skin, Ultherapy® guarantees that the results are not short-lived but rather that the collagen will continue to rejuvenate skin quality well into the future.
Addressing Your Concerns
Recovery

Ultherapy® is a nonsurgical treatment and has no special recuperation or recovery. Patients may temporarily have a flushed appearance in the treated areas, but the redness typically disappears within a few hours. Other uncommon and temporary side effects include slight swelling, tingling, tenderness, numbness, or minor bruising. After treatment, patients can immediately return to the activity of their choice.

Scars

As a nonsurgical treatment, Ultherapy® leaves no scars. The ultrasound energy triggers collagen production and tightens the skin without any surgical incisions.

Cost

The cost of Ultherapy® depends on the area being treated and the details of your customized procedure. As Ultherapy® is an elective procedure, the expense is not covered by insurance companies. During your initial consultation with Dr. Chin's medical staff, you will be provided with a detailed price quote.

Pain

During the treatment, patients may feel the transference of small amounts of energy to the skin. This sensation is a positive indication that new collagen is forming. Patient comfort levels may vary, and the sensation ends as soon as the treatment is complete. Our staff will consult with you on the details beforehand to make your treatment as pleasant as possible. We also prescribe medication to our patients before the procedure to alleviate any discomfort during treatment.
Frequently Asked Questions
Is Ultherapy® safe?

Ultherapy® is approved by the U.S. Food and Drug Administration (FDA) as safe for use in tightening the skin of the face, neck, and chest.

---

What areas can receive Ultherapy® treatment?

Ultherapy® can lift and tighten the skin of the neck, chin, and brow. In particular, lifting the brow can reduce excess skin on the lids, thereby opening up the eyes and producing a more refreshed appearance. Treatment can also improve lines or wrinkles on the chest.

---

How long does an Ultherapy® treatment take?

The length of treatment varies depending on the individual, the treatment plan, and the area being treated. Treatment typically takes between 30 minutes and two hours.

---

When will I see the final results?

While some results are visible immediately after the procedure, the ultimate effects of Ultherapy® appear after two to three months once the new collagen has effectively strengthened and rejuvenated the skin. Results may continue to improve for up to six months after the procedure.

---

How long will my results last?

Because Ultherapy® stimulates new collagen, patients can retain a rejuvenated appearance for a full year after their procedure. Since the skin will continue to age naturally, future touch-up treatments can be provided to keep pace with the aging process.

---