elōs® Sublative RF in Fresno
Over time, our skin's youthful appearance and texture are affected by the loss of collagen and moisture, sun exposure, acne, and more. Discolorations such as rosacea, sun spots, and age spots can also appear. The elōs Sublative RF technology offers patients with all skin types a safe and effective solution for reversing multiple signs of aging and skin discolorations and is an effective laser treatment for rosacea. All this with no downtime!
This treatment achieves excellent results by stimulating the body to produce more collagen. The increased production of this protein helps treat mild to moderate wrinkles and imperfections in the skin's tone and texture.
Call Aspire Medispa in Fresno today to learn more about what our radio frequency and light energy treatments can do.
What Can elōs® Sublative RF Do?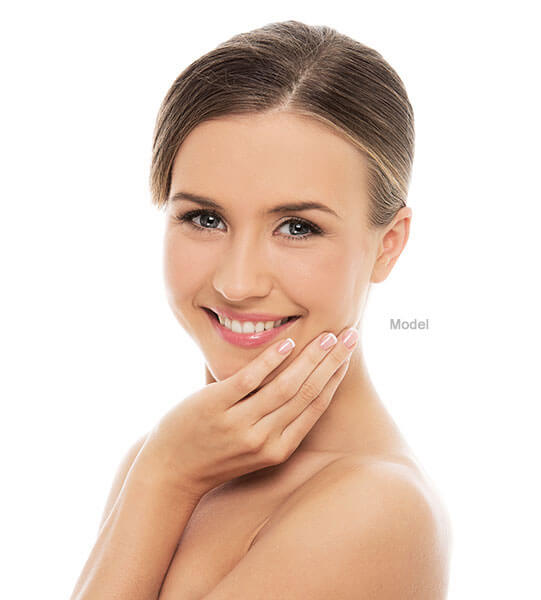 Treats Multiple Issues
This highly versatile treatment is appropriate to treat many tone and texture irregularities, such as freckles, age spots, spider veins, acne, and rosacea. It also tightens mildly loose skin and reduces wrinkles. The elōs® Sublative RF can be used on most skin types and in delicate, hard-to-treat areas, including around the eyes.
Stimulates Collagen Growth
Increased collagen production is probably the most impactful effect of this radio frequency treatment. Collagen is responsible for the strength, tightness, and flexibility of the skin. Sadly, our bodies produce less of it as we age, leading to more visible signs of aging. This RF treatment can produce excellent results with no surgery required.
Offers Visible Results After Three Treatments
Most elōs® Sublative RF patients require a series of treatments for optimal results. Expect to receive three to five treatments over the course of a few months. Patients typically see results after the third treatment, but collagen production should continue for up to six months after the last treatment.
How Does elōs® Sublative RF Work?
Rather than undergo surgery, many patients prefer less invasive treatments to improve their appearance. The elōs® Sublative RF helps resurface the skin using ablative and nonablative technologies and special collagen-building radio frequencies. This technique causes minimal disruption to the skin.
How Does elōs® Sublative RF Treatments Work?

The elōs® Sublative RF device works by using a hand-held device to deliver radio-frequency energy deep into the skin in the form of a matrix. Healthy skin around the Matrix dots begins the wound healing process, and new collagen production begins.

How Do Radio Frequency Treatments Improve the Appearance of the Skin?

Ablation and skin resurfacing occur through bi-polar radio frequency and light energy. This approach leads to significant lifting, a smoother-looking complexion, more elastic skin, and reduced fine lines and wrinkles.
What Happens After Receiving elōs® Sublative RF Treatments?
How Long Is Recovery After elōs® Sublative RF Treatments?
The elōs® Sublative RF is a non-invasive cosmetic skin treatment and has no downtime to speak of. You may experience some redness and soreness for up to three hours after the procedure.
You will be provided with instructions on caring for your skin following your RF treatment.
Will elōs® Sublative RF Leave Scars?
The elōs® Sublative RF does not leave scars or other signs. Any redness that develops after the treatment should be temporary.
When Will I See My elōs® Sublative RF Results?
An elōs® Sublative RF treatment does not provide immediate results. Initial results may take up to three months, with more significant results evident at five months. Collagen growth will continue for up to six months after the last treatment.
Frequently Asked Questions About elōs® Sublative RF
How much does elōs® Sublative RF cost?

The cost of elōs® Sublative RF will vary depending on the extent of each treatment and the number of treatments required. Some patients will achieve their desired results after three treatments, while others may need more. Most patients do not require more than five visits over five months. Please call Aspire Medispa to schedule a consultation.

You will be given an elōs® Sublative RF price quote based on your stated desires.

---

How long does it take to heal from elōs® Sublative RF?

There is no downtime associated with this treatment aside from a bit of temporary soreness and redness. Any discomfort can be alleviated with over-the-counter medications.

---

Does elōs® RF Sublative work?

Yes, most patients respond well to the procedure and have positive results.

---

What are some other laser or energy-based treatments that treat facial imperfections?

Aspire Medispa is proud to offer a collection of nonsurgical skin rejuvenation treatments, including the following:

---
Call Aspire Medispa today if you are interested in energy-based, laser skin resurfacing or want to get rid of skin discolorations and live near Fresno, California.