Top 5 Most Frequently Asked Questions About Microneedling
Posted October 28, 2019 in Microneedling
3 min read
We get it. Microneedling can be a little intimidating. It can seem strange to sign yourself up to have needles rolled across your face, even if it does dramatically improve a range of facial conditions.
But a lot of the fear or hesitancy behind microneedling treatment comes from a general lack of information, which is why we compiled a list of the top 5 most frequently asked questions about microneedling.
We believe the benefits of this procedure far outweigh the cost.
1. What Is Microneedling? How Does It Work?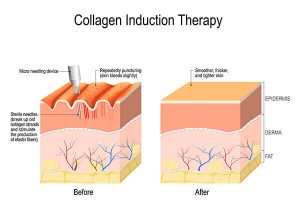 Let's start with the basics. During this procedure, a wheel of needles or a microneedling pen is gently rolled across your face for about 15 minutes, producing micro-wounds in your skin. The pain is minimal since you are given a topical anesthetic.
Your body's response is to heal these wounds, which has the added benefit of smoothing wrinkles and adding volume to the face.
Microneedling can be performed on the face, neck, arms, hands, legs, abdomen, and back.
2. How Long Are the Microneedling Needles?
Each needle is between 0.5 and 3 mm in length and 0.1 to 0.25 mm in diameter. This means they are shorter than a typical thumbtack and half as wide as a standard sewing needle.
The design of the needles is perfect for wounding the skin enough to achieve all the benefits of your body's natural healing system without creating noticeable scarring.
3. Can Microneedling Really Tighten Skin?
Skin tightening is one of the biggest reasons people turn to microneedling. It is a minimally invasive way to correct skin sagging.
The punctures increase the production of elastin and collagen, reversing the development of sagging skin and wrinkles throughout the face. Dramatic improvement to the signs of aging may be achievable after only a few treatments.
4. Can Microneedling Help Acne?
Yes, the boost of collagen and elastin production can also help smooth over the appearance of acne and acne scarring throughout the face.
It can also address hyperpigmentation, stretch marks, and sun damage anywhere on the body.
5. What Age Should I Get Microneedling Done?
One of the best parts about microneedling is that there is no age requirement to have it performed. It is safe for people of all ages.
If you are suffering from acne scars, acne, post-traumatic/burn scars, alopecia, hyperhidrosis, stretch marks, or other conditions, microneedling could be beneficial.
Ask Dr. Chin about combining your microneedling treatment with platelet-rich plasma (PRP) to create even more dramatic results.
Have More Questions?
If you would like to get more information about how microneedling can benefit you, schedule a consultation with Dr. Chin online or give our office a call at (559) 435-8477.