Are Fractional Laser Treatments Better?
Posted October 31, 2018 in Fractional Laser Treatments
Over the years, laser resurfacing has reinvented the way many patients treat irregularities in the tone, texture, and pigmentation of their skin. And when it comes to laser treatments, you have two options: fractional and non-ablative. While you may not know the difference between the two, you should acquaint yourself with them before undergoing your next laser resurfacing treatment. At Aspire Medispa, Dr. Chin offers both fractional and non-ablative laser treatments to his patients.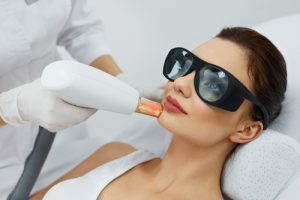 What Is a Fractional Laser?
Fractional laser treatment is a minimally invasive skin resurfacing procedure that targets the deeper layers of the dermis for fuller facial rejuvenation. A fractional laser causes columns of thermal injury to the surface. The injuries produced by this laser cause the skin to undergo a rapid repair process, meaning that the damaged upper layers of the epidermis flake off to reveal new, healthy layers of skin beneath. At Aspire Medispa, Dr. Chin offers fractional laser treatment in the form of DeepFX™ and ActiveFX™. This treatment uses a CO2 laser that targets the deepest layers of the skin to stimulate tissue regeneration and collagen production.
ActiveFX™ and DeepFX™
Stimulates regeneration of tissue and new collagen
Improves skin laxity
Reduces fine lines and wrinkles
Evens out skin tone and texture
Repairs brown spots and sun-damaged skin
Can be used to treat the face, crow's feet, around the lips, neck, upper chest, hands, and arms
How Does a Non-ablative Laser Work?
Ablative lasers damage the top layer of skin to the point of peeling away. A non-ablative laser treatment, such as intense pulsed light (IPL), treats facial aging without damaging the top layer of skin. This uses infrared light energy to heat deep layers of the skin. There are also combination treatments such as ReFirme™ or eMatrix. These use a combination of bipolar radiofrequency (RF) and elōs® (light energy) technologies to heat the dermal tissue without damaging it to the point of flaking off.
ReFirme™ and eMatrix:
Stimulate collagen production and the firming of lax skin
Tighten sagging around the jowls and neck
Reduce wrinkles under the eyes and on the brows
Address nasolabial folds (creases between the corners of the mouth and nose)
Tone lax skin on the abdomen, upper arms, and knees
What Are the Benefits?
Both fractional and non-ablative lasers have benefits as well as negatives. Both will stimulate collagen production and lead to a more youthful-looking complexion. A fractional laser, such as the ActiveFX™ and DeepFX™, will provide a deeper level of facial resurfacing and regeneration than its non-ablative counterpart and shows results with as little as one treatment. This type of laser is ideal for patients who are experiencing a more significant degree of facial aging, including deep wrinkles, lax skin, and more extensive facial scarring. Unfortunately, fractional laser treatments are more invasive than non-ablative ones, and they require more downtime. Typically with this type of treatment, the skin will start to peel off on day two and will continue for the next week.
A non-ablative laser treatment, such as IPL, ReFirme™, and eMatrix, is ideal for patients with more moderate signs of aging. Patients who achieve the best results are typically under the age of 50. These treatments may require multiple sessions and a maintenance treatment every four to six months. Non-ablative laser treatments are safe, comfortable, and need zero downtime. You can be up on your feet and participating in your normal activities the same day as your treatment.
Finding the ideal treatment for you comes down to your unique skin concern. For any questions about these or other laser treatments, contact Dr. Chin at (559) 435-8477 to set up a consultation.