Ultherapy®: A Non-surgical Look at Skin Tightening
Posted November 07, 2018 in Ultherapy®
There comes a time when your morning glances in the mirror spell out what you've probably already suspected: your skin is aging. While this may sound negative, it isn't. Aging is a natural part of life, and the visible signs of it mean that you're living a full one. That being said, just because aging is an expected part of growing older, it's not something that just needs to be accepted. These days, the number of cosmetic procedures aimed to restore a youthful and rejuvenated complexion are numerous and extensive. And with so many technological improvements in both surgical and non-surgical skin rejuvenation, there is no excuse not to try one. At Aspire Medispa, Dr. Chin is pleased to offer Ultherapy®, a non-surgical and non-invasive approach to restoring youthful complexions and contours.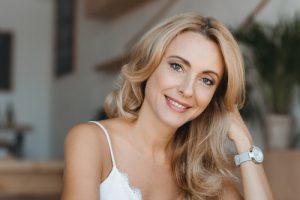 Ultherapy® Technology
Ultherapy® makes use of focused ultrasound waves that stimulate collagen production deep within the tissues of the skin. Collagen is the protein found in the skin that is responsible for your skin's strength, structure, and elasticity. In short, collagen is what keeps your skin looking taut and smooth. When you're young, collagen is naturally produced in large amounts. Unfortunately, with each year, collagen production decreases more and more, thus leading to the formation of fine lines, wrinkles, lax muscles, and sagging skin. By stimulating collagen production, Ultherapy® can tighten skin for natural-looking results. Ultherapy® is proven to restore youthfulness to the neck, décolletage, chin, brow, and around the eyes.
Non-surgical, Non-invasive, and Comfortable
Before Ultherapy®, loose and lax skin were treated through surgical procedures such as facelift surgery, neck lift surgery, or a brow lift. These procedures, while effective, were invasive and led to prolonged recovery periods, lengthened periods of discomfort, and scarring. Ultherapy® is non-surgical. There is no chance of scarring, anesthesia complications, or infection, and unlike invasive laser treatments that rejuvenate the skin, there is no uncomfortable ablation of the skin. The procedure itself is tolerable without anesthesia, and the majority of patients experience no discomfort. Oral medications or injections may improve any discomfort. Ultherapy® has no downtime, and you can resume your normal activities immediately. Any redness that occurs will dissipate within a few hours of the treatment, and results begin to show immediately because there is no post-treatment swelling or bruising.
By undergoing a skin tightening procedure, you are on your way to a more youthful, healthier-looking skin. While the effects of the treatment require a few months for collagen production and healing, wrinkles and fine lines will not only be reduced, but your skin will appear more taut and smooth. Ultherapy® results look natural. You won't look like a different person, but everyone will notice how refreshed and rejuvenated you look. And there is no denying that compliments about your skin always feels good.
To learn more about Ultherapy®, contact Dr. Chin at Aspire Medispa by calling (559) 435-8477 to schedule a consultation.