What Does Loss of Cheek Volume Have to Do With My Under Eye Bags?
Posted February 02, 2023 in Injectables, JUVÉDERM®
3 Minute Read: 
If you've developed puffy areas under your eyes and tried multiple topical creams and treatments that promise to improve them to no avail, you may need to consider another approach.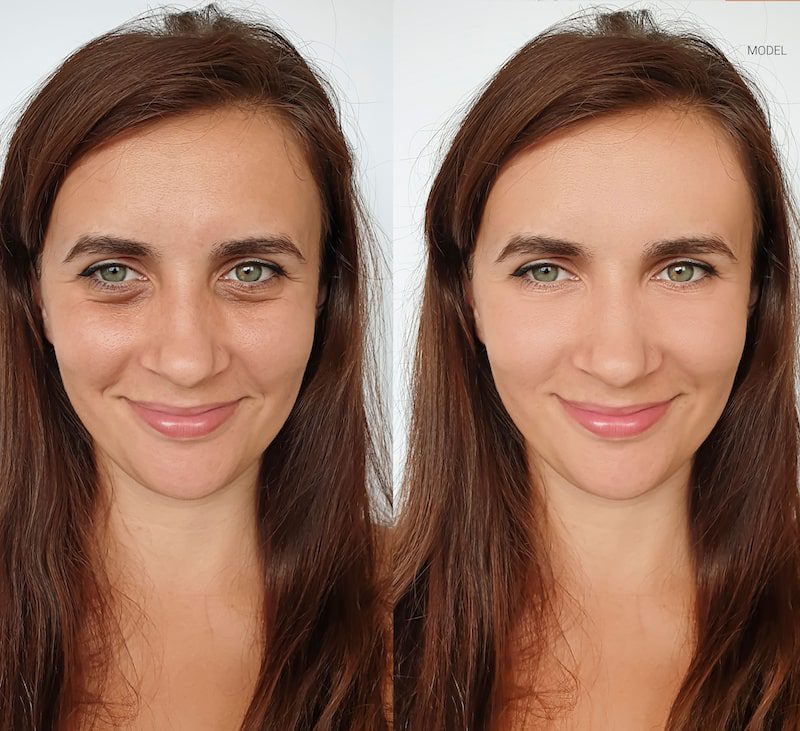 Even expensive, medical-grade creams can fail because, as we age, physical changes occur in the midface (the area starting at the corners of each eye down to the corners of your lips). 
The depletion of collagen and elastin in the midface leads to a gradual breakdown of underlying tissues and volume loss, causing once youthful facial contours to become hollow. 
Facial Volume Loss
and Eye Bags in a Nutshell
As your skin and the tissues beneath it begin to thin, facial contours tend to "sink," leading to unwanted cheek hollows and

skin depressions

. 

At the same time, fluid can begin to accumulate under the eyes.

This process contributes to puffiness under the eyes since less facial fullness and firmness exist to conceal even small amounts of

fluid build-up

under the skin.
What Can I Do to
Increase My Cheek Volume
and
Reduce Puffy Under Eye Bags
?
You can simultaneously reduce bags under your eyes and restore volume to your cheeks with the right hyaluronic acid (HA) dermal filler. This non-surgical treatment can smooth wrinkles, add volume, and reduce or eliminate eye bags.
While there are quite a few different dermal fillers, not all are the same. Some injectable fillers are more effective than others at reducing puffiness under the eyes and restoring volume.
JUVÉDERM® VOLUMA® XC
to
Reduce Hollows
,
Add Volume
, and
Diminish Under Eye Puffiness
JUVÉDERM® VOLUMA® XC is a safe, long-lasting hyaluronic acid dermal filler used to add volume and reduce the appearance of under eye bags. The only HA filler approved by the FDA to restore volume to cheeks, JUVÉDERM® VOLUMA® XC can deliver results that last up to two years after only one treatment.
Look for a Skilled JUVÉDERM® VOLUMA® XC Provider 
When choosing your clinician, be sure they have plenty of experience using JUVÉDERM® VOLUMA® XC to restore cheek volume and smooth under-eye bags.
JUVÉDERM® VOLUMA® XC is the best option for patients with deep hollows under their eyes. Your qualified provider will inject the filler into the depressions located halfway between the cheeks and lower eyelids. A conservative approach is best when using any filler in this delicate area. 
Why Use a Hyaluronic Acid Filler?
Hyaluronic acid is the compound found naturally in your body responsible for the firm, supple, radiant skin that characterizes a youthful face. HA fillers are smooth and easily manipulated to create natural, younger-looking facial contours.
Smooth Eye Bags
and
Add Cheek Volume
in
Fresno, CA,
With JUVÉDERM® VOLUMA® XC
The JUVÉDERM® experts at Fresno's Aspire MediSpa have the skill and experience you want when receiving treatment with dermal fillers, especially when addressing under eye bags. 
Contact us today by calling (559) 435-8477 and speak with a knowledgeable and helpful member of our team.
Aspire MediSpa is affiliated with Valley Institute of Plastic Surgery and is overseen by the well-known, board-certified plastic surgeon Dr. Mark Chin.
Our MediSpa offers high-quality, advanced non-surgical skin and body contouring treatments. Should you want to explore more options, Dr. Chin provides a wide range of plastic surgery procedures.