Why Should I Choose Medical-Grade Skin Care Products
Posted January 11, 2022 in Skin Care
2 Minute Read: 
Take a quick stroll to your local drugstore aisles, and you are sure to find countless skin care products promising to give you healthier, better-looking skin. Commercials and social media ads are also notorious for highlighting different skin care products meant to appear like the fountain of youth.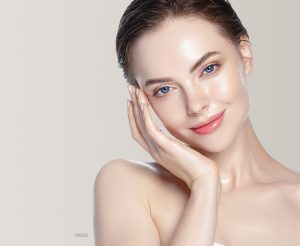 Often, those ads are simply too good to be true. And even if the over-the-shelf skin care products work for you, you could be missing out on your most radiant, healthy complexion possible.
Medical grade vs. Over-the-Counter Products
OTC products are commonly found at drugstores and other retailers, whereas medical-grade products are prescribed by doctors or licensed aestheticians. 
A notable and most significant distinction between the two is that the concentration of active ingredients in medical-grade products is generally greater than what you can find in over-the-counter counterparts. Although OTC products advertise these ingredients, there may not be enough to create a real difference.
Here are some reasons why opting for medical-grade skin care products makes sense.
Medical-Grade Skin Care Products Are Often Subject to FDA Regulation
Medical-grade skin care products often undergo intense testing by professionals and are subject to FDA regulation to ensure safety and effectiveness. This means the products are specifically formulated to produce the best results.
In other words, before a medical-grade skin firming cream like NEOCUTIS is available to the public, there are multiple studies done to show that it actually enhances skin firmness. 
On the other hand, OTC products do not need to have clinical studies or research to support their claims.
Skin Care Results Can Be Quicker
Medical-grade skin care is generally more effective as the active ingredients (vitamin C, retinoids, antioxidants, etc.) are in higher concentration. Unlike over-the-counter products that only reach your skin's surface layers, medical-grade formulas are designed to penetrate deeper into the skin, helping you yield quicker, more noticeable results.
The Benefit of Medical Oversight
Before purchasing medical-grade skin care products, an experienced provider evaluates your skin and recommends the right product combination for your specific skin type and condition. Additionally, you will be educated on how to use these products safely and effectively.
You no longer need to play guesswork when self-diagnosing your skin and selecting the skin care product you think would work best. The combination of individually tailored advice and expertly crafted skin treatment is more likely to deliver the beautiful, younger-looking results you desire.
At Aspire Medispa, we offer a wide selection of unique medical-grade skin care lines to suit your aesthetic needs. We invite you to schedule an appointment today to discuss your skin concerns with one of our knowledgeable professionals and find the best product for your needs.
Interested in Learning More?
Contact us at 559-435-8477 or fill out our online form to get started. Let us work with you to create the perfect skin care regimen for your unique condition. We are more than happy to guide you in the right direction!