How Can I Tighten the Skin on My Face Without Facelift Surgery?
Posted August 15, 2022 in Laser Treatments, Microneedling
3 Minute Read: 
Signs of aging can appear as soon as our late twenties, and it's essential to use adequate sunscreens and high-quality skin care products to protect our face, neck, and chest (décolletage).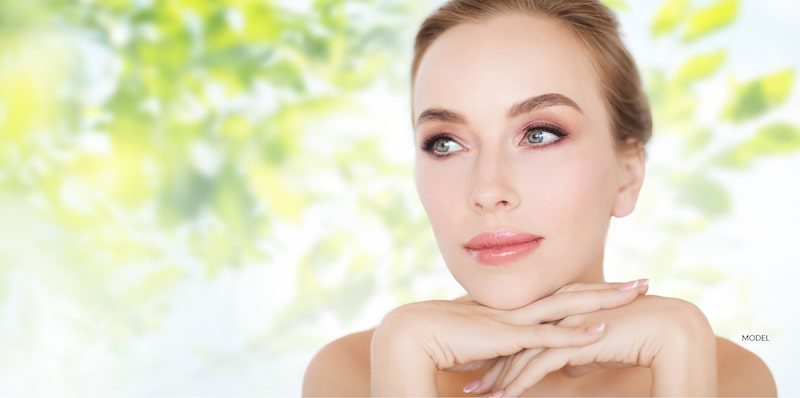 By the time we reach our 40s, we will likely experience some degree of laxity (loosening) of the skin in these areas. 
Preventing
Skin Laxity
In addition to an effective skin care routine, today's advanced non-surgical and minimally invasive technologies provide highly effective treatments that can help increase the collagen in our skin and keep it tight and healthy for as long as possible. That is, if we start using them before this laxity becomes too significant.
Cosmetic Treatments
That May Help
Tighten Facial Skin (Along With Other Skin Concerns)
Some people treat other skin issues like acne, scarring, discoloration, and sun damage (prior to having any serious laxity concerns) with the following treatments and benefit from the procedure's additional skin tightening features.
Treatments Designed Specifically to Tighten Skin 
While the treatments mentioned above can help tighten skin along with their other benefits, the following procedures were specifically created to tighten loose skin. 
While a surgical facelift will always provide the most dramatic results, these treatments are proven highly effective in tightening mild to moderately loose facial skin:
elōs® SUBLIME

: This

FDA-approved

,

non-invasive

treatment tightens and

lifts facial skin

with minimal discomfort and zero downtime. Radio-frequency and infrared light energy is used to tighten skin and stimulate collagen production deep in the skin. With elōs® SUBLIME, you may also experience a reduction in fine lines and wrinkles.

Ultherapy®

: This device fights back against gravity and time by lifting and tightening the skin using ultrasonic waves to heat the underlying tissues. Ultherapy® works all over the face, including the brows, neck, jowls, and under the

chin area

. It can also be used to tighten the

chest (décolletage

) area.
Skin Tightening in
Fresno, CA
Aspire Medispa is associated with the Valley Institute of Plastic Surgery and is overseen by the well-respected, board-certified plastic surgeon, Mark Chin, MD. 
You can count on Dr. Chin and his team to provide state-of-the-art skin tightening treatments in Fresno, California, as well as a wide range of other non-surgical and surgical procedures that will have you looking fantastic!
Call Aspire Medispa today to learn more about our services at (559) 435-8477.